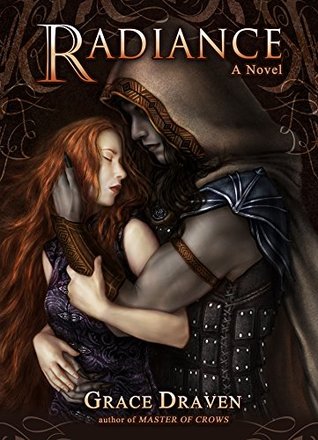 This is one of those curate's eggs books, for me – good in parts. It was recommended in a discussion on the fantasy subreddit as a book that tackles the difficult question of romance in a fantasy setting well, and in particular a romance between two people of different races, and yes, that's definitely one of the good parts. The fantasy part? Not quite so successful.
The romantic couple are the heart of the book. Brishen is a prince of Bast-Haradis, the no-longer-needed younger son, traded in marriage to secure an alliance with the neighbours. Ildiko is equally unwanted, the orphaned neice of the Gauri king. She is human, a red-haired child of sunlight. He is Kai, grey-skinned and nocturnal. Both are accounted good-looking to their own race, but are ugly to each other. The book opens with their arranged marriage, each of them dutifully fulfilling their role but nervous about the 'otherness' of their marriage partner.
They quickly find that beauty is more than skin deep, and a meeting of minds can be just as rewarding as physical attraction. If I have a quibble with the romantic elements, it's that they get along with each other rather too quickly, and neither of them ever makes a mistake, says the wrong thing, offends the sensibilities of the other, even inadvertently. It was all a bit too perfect. I would have liked a little more conflict between the two of them before (surprise!) they each decide that the other is all right really, and (eventually) settle into wedded bliss. Be warned that the sex, when they do get round to it, is a long-drawn-out affair.
If the main characters are beautifully drawn, and their relationship totally believable, the others are less well realised. They fall into traditional good/evil roles and Brishen's parents, in particular, are so ludicrously over-the-top cartoonishly evil that I just rolled my eyes. And the scenery is full of an array of enemies who leap out from behind rocks for a killing spree at every verse end. It got tedious, and I confess to skimming the last third of the book.
I'd have given the romance alone 4* and the fantasy 2*, so I've settled on a final score of 3*. If you're more tolerant of the conventional good guys/bad guys dichotomy, and the cross-race romance intrigues you, I can recommend this. It's very well-written and this is just the start of the series, so it may be that the fantasy side of things comes to the fore in the later books. And I guarantee that you'll never look at a pie (or a potato!) in quite the same way again.