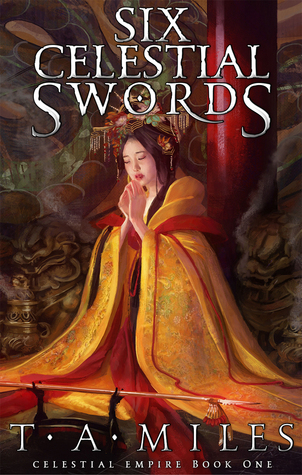 I haven't read this one but wow, look at that cover! And for everyone who grumbles that all fantasy is set in a pseudo-medieval European world, this one is very definitely not! You can find it on Amazon.
Here's the blurb:
Inspired by the rising chaos in Sheng Fan, Xu Liang, mystic and officer of the Imperial Court, leaves his homeland for the barbarian outer lands in search of four magical blades to unite with two sacred weapons already in the possession of the Empire. His plan is to bring all of the blades together and return them to Sheng Fan's Empress as a symbol of unity that will bolster the people's faith in the Imperial family and assist against the surge of dark forces.
Complicating his plan is not the finding of the blades, but finding them with bearers; foreigners who have no intention of parting with them and less intention of serving an Empire they've scarcely heard of. It becomes Xu Liang's task to ally himself with these barbarians of the outer realms and unite them with his cause, as well as with one another. Only the complete reunion of all six blades and their fated bearers can stand against chaos, rising like a dragon from slumber beneath the foundation of a nation unprepared.