Occasionally, I like to tell you about a book that's caught my eye, one that I haven't yet read myself, but one I feel deserves a bit of a spotlight shining on it. Benedict Patrick is an author who's already attracted a lot of attention. His debut novel, They Mostly Come Out At Night, has been highly praised and was a round-winner in Mark Lawrence's competition for indie fantasy, the Self-Published Fantasy Blog-Off 2016 (or #SPFBO2), although sadly it missed out on making the final group of ten.
Now his second book, Where The Waters Turn Black, is about to be released, and it sounds just as original and fascinating as the first. You can pre-order now, or buy on the 16th, at just 99c (or equivalent) until 22nd. If you have a subscription to Kindle Unlimited or Prime, you can borrow for free. It's a stand-alone, so no worries if you haven't read the first book. Here's the link to Amazon.com.
When gods and monsters battle, her music will not protect her…
The Crescent Atoll is a remote string of tropical islands, connected by long canoe journeys and a love of stories.
When Kaimana, a young ocarina player, discovers the lair of a taniwha – a legendary monster – she finds herself inspired. The song she is composing about their encounter will be her masterpiece, but her disturbance of the beast attracts the ruining gaze of the god of war. She must convince the taniwha to trust her if they are both to survive.
Where the Waters Turn Black is a standalone novel from Benedict Patrick's Yarnsworld series. Inspired by the myths and legends of South Pacific island cultures, this book is perfect for those seeking fantasy stories with a hint of the unfamiliar.
---
And this is as good an excuse as any to show the awesome cover from the first book. And waddayaknow, this one's 99c for a while, too. You can buy or borrow it at Amazon.com.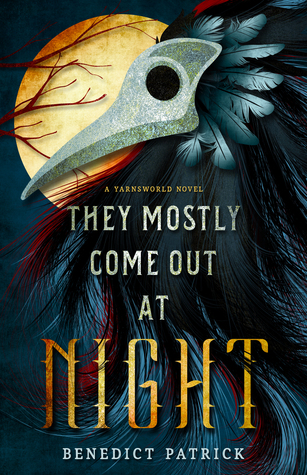 The villagers of the forest seal themselves in their cellars at night, whispering folktales to each other about the monsters that prey on them in the dark. Only the Magpie King, their shadowy, unseen protector, can keep them safe.
However, when an outcast called Lonan begins to dream of the Magpie King's defeat at the hands of inhuman invaders, this young man must do what he can to protect his village. He is the only person who can keep his loved ones from being stolen away after dark, and to do so he will have to convince them to trust him again.
They Mostly Come Out At Night is the first novel from Benedict Patrick's Yarnsworld series. Straddling the line between fantasy and folklore, this book is perfect for fans of the darker Brothers Grimm stories.